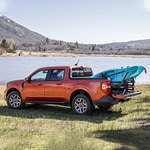 The Ford Maverick at Gus Machado Ford in Hialeah, FL comes packed with technology features. An essential feature is the rear parking sensors, which can be seen on the inside mirror of the truck. They give you real-time feedback on the status of the rear bumper so that you do not hit it when reversing into a tight parking space. It is essential to have this feature to avoid hitting other vehicles or objects around you.
The rearview camera gives you an enhanced view of the area behind the truck. It helps to check if any other vehicles are coming up from behind you. This is especially important when you are reversing into a parking space.
Connectivity technology features of the Ford Maverick truck include Apple CarPlay® and Android Auto®. With this feature, you can connect compatible devices and enjoy the best sound quality possible. The built-in 8-inch touch display lets you interact with your phone through Siri® or Google Now.