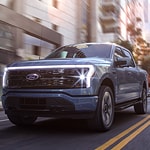 The New Ford F-150 Lineup

The Ford F-150 has been a wildly popular light-duty pickup truck for its many capabilities and durability. Available in seven different trim configurations, the F-150 lineup has been improved in various ways. The Ford F-150 is now more capable and more advanced than ever before.

Power and Performance

There are several non-hybrid and hybrid options in the new Ford F-150 lineup. With a total of six available powertrains, the new F-150 lineup has all of the power that it needs to easily propel the model forward. The twin-turbocharged 3.5-liter V6 engine of the F-150, for example, allows the truck to tow up to 14,000 pounds.

Construction

The strength of the new Ford F-150 starts with its construction. The entire frame of the F-150 is made of high-strength steel. Similarly, the bed of the F-150 has been constructed using high-strength military-grade aluminum that is both light and strong.