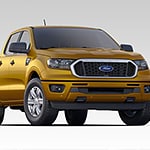 The features of the Ford Ranger Tough are the perfect combination of style and durability. This rugged pickup truck meets or exceeds all government safety standards while still powerful enough to tow up to 3,500 pounds.
The Ranger Tough has an impressive towing capacity yet still gets up to 21 miles per gallon. It comes with a powerful 4.0L V6 engine and a sturdy automatic transmission.
The truck is roomy enough to fit up to five people. This is great if you plan on taking a family camping or want to haul your friends. It also features cruise control and a telescopic steering wheel for added convenience and comfort.
It has a great design, is reliable and always gets the job done. It's one of the most rugged, dependable vehicles on the market and is a perfect choice for a tough job. The Ford Ranger Tough comes in four different color options.